Meet Living Stream – online worship!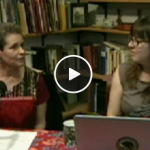 … through the eyes of Pastor Audrey deCoursey in Portland, Oregon.  We asked Audrey about her church.  Here's what she had to share.
Question 1: How did YOU get connected to your congregation?
The idea for an online congregation had been percolating around the country for a few years, but it was when I wrapped up my chaplain residency and was looking for another way to use my gifts that I decided I could be the one to make this idea take shape.  I talked to some wise friends and colleagues, proposed the idea at the fall 2012 Pacific Northwest District, and launched our online worship services in December 2012, with the help of some great volunteers.  It was truly the Pacific Northwest that helped Living Stream come into being, through its vision of a strong future for the church, coast to coast.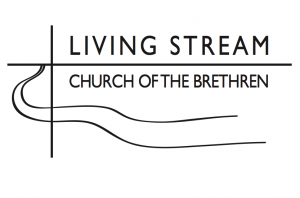 Question 2: What is one thing that makes your congregation special?
Well, we're the first online Church of the Brethren!  That's pretty different!  And the best part about this is that we get to worship with folks from around the world – from Tennessee, Texas, Michigan, Pennsylvania, Maryland, Indiana, Illinois, California, Oregon, Washington – and even the Netherlands and China!
Question 3: What is one of your favorite memories of your church, or a significant historical moment?
This past June, I was preaching about what I called "rainbow theology," and one of our members shared a comment through our live chat feed.  She shared the memory of seeing a rainbow in the sky right before she went into labor with her daughter.  It was a beautiful moment of sharing our deep, heartfelt moments that make us a community.

Congregation Name:
Living Stream Church of the Brethren
Worship Time

: 5pm Pacific time (webcast live worldwide – 7pm Central, 8pm Eastern, etc.)
Worship Style

: contemporary and adventurous!
Congregation Size

: 30-50 worshippers