District Executives and Area Ministers
District Executive                                                                   Colleen Michael
Pacific Northwest District PO Box 5440                             509.662.3211

Wenatchee, WA 98807-5440
Area 1 – Seattle Cluster and SW Oregon                                  Carol Mason
(Olympic View, Tacoma Larchmont, Columbia                      360.807.8615
Lakewood, Covington, Living Stream,                                     21523 Oregon Trail Rd SW
Portland Peace, Springfield and Grants Pass)                       Centralia, WA 98531
Area 2 – Eastern Washington                                                    Steve Gregory
(Wenatchee Brethren Baptist, Sunnyslope,                          509.679.0184
Ellisforde, Whitestone Weston, Lacey,                                  1225 S. Union
Salkum/Mossyrock and Camp Koinonia)                               East Wenatchee, WA 98801
District Board Leadership
District Moderator – Debbie Roberts
Board Chair – Sara Kinsel
Treasurer – Ivan Bowman
Recording Secretary – Terry and Jean Keith Altemus
Ministry Commission Leader – Lee-Lani Wright
Congregational Connections Team – Team Leader vacant
         Also Serving – Elizabeth Ullery, Steve Gregory, Ben Green
Faithful Response Team Leader – Roger Edmark
Pastor-at-Large – Howard Ullery
The 2013 District Board, pictured below when meeting at Lacey Community Church in Washington: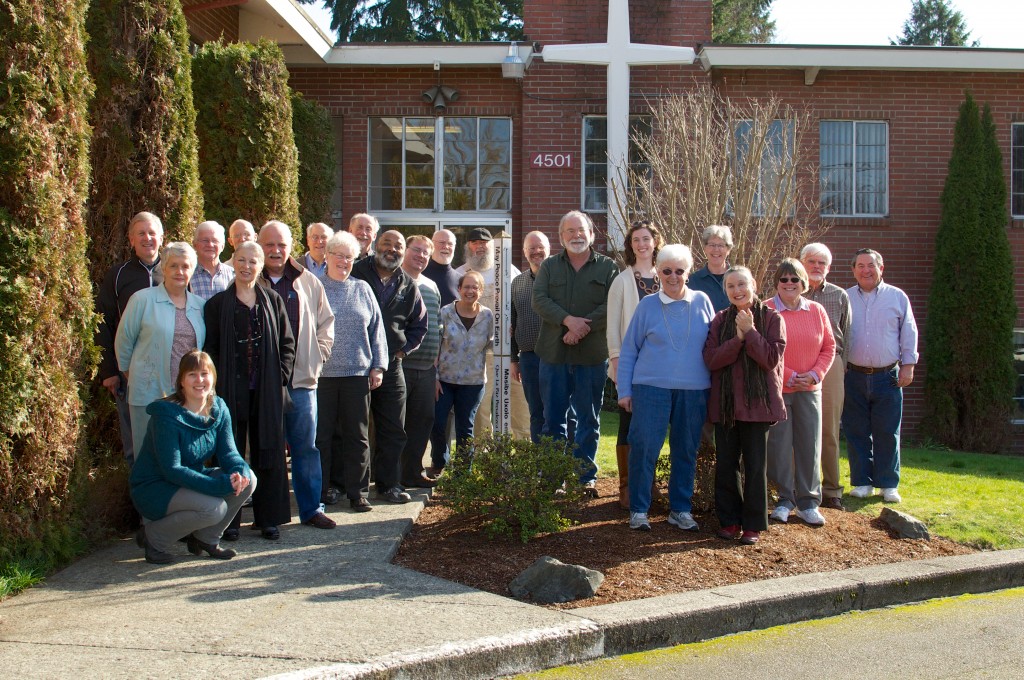 District Leadership Structure
Through our board, three ministry teams focus on the various tasks of our work together:
Congregational Connections Team
Connects us to our camps and also hosts a 'big event' each year to unite the churches of Oregon and Washington in one celebration and fellowship experience.  Also facilitates renewal for individual congregations, and oversees new church development.
Ministry Team
Oversees licensing and ordination of ministers, as well as placement process and continuing education opportunities. Also facilitates pastoral retreat experiences.
Faithful Response Team
Coordinates district responses to serve for peace, justice, and healing both locally and worldwide.  Manages disaster response actions, runs the annual relief auction at District Conference, and facilitates service and witness opportunities. Faithful Response also oversees our congregational and district financial stewardship, establishing guidelines and policies for financial management at the district level and encouraging congregational support to the district.