Meet Sunnyslope – Wenatchee
… through the eyes of three members in Wenatchee, Washington.  It's a congregation rooted in both Church of the Brethren and United Church of Christ denominations.   Here's what they had to share about their Sunnyslope Church.
How did YOU get connected to your congregation?
I was attracted to the denomination because of its peace stance, and specifically to Sunnyslope because of its open and progressive atmosphere, stated and lived through its mission statement:
No dress code.

No judgment.

No discrimination.

No distinctions.
….. So bring your doubts, questions, and busy kids. God does not reject people. Neither do we. No matter who you are or where you are on life's journey, you are welcome to full participation in all areas of our congregational life and ministry. At The Sunnyslope Church we do not put a period where God has placed a comma, because we believe God is still speaking and we are still learning what it means to live in Jesus' realm of love, compassion, and  justice.
.
We were new in town and seeking a UCC church.  Sunnyslope Church was the only UCC church in town.  We got "connected" because of the authentic warm reception we received from the first day we visited.  We stay connected because of the authenticity of the people, their true desire to welcome all in spite of or maybe because of the differences we all bring to the congregation in our political and theological views.
.
What is one thing that makes your congregation special? 
.
We care for each other in a profound and genuine manner.  We do our best to open our hearts and doors to all who want to come.
.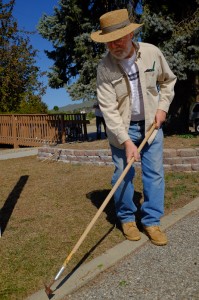 We have an established practice of pursuing economic and social justice, and serving others through our monthly "special offerings," support for social agencies, and our open and affirming position. In addition, "small" events, such as  Christmas caroling to members who could not easily attend worship remind me of how much members of the congregation care for each other.
.
What is one of your favorite memories of your church, or a significant historical moment? 
My favorite memory is the first time we ever visited Sunnyslope.  We found folks dressed in jeans, singing gleefully even if not all were on tune, and smiling with the joy of living despite the usual challenges of being alive.  We knew we had found the right place.
.
I deeply appreciate the richness and variety of practices, perspectives,  ideas and sharing that comes from being dually-aligned. That decision was an important one in the life of the congregation.

.

.
.
Congregation Name:  

The Sunnyslope Church: Church of the Brethren/United Church of Christ
Location:  

3330 School Street, Wenatchee, WA
Pastor or Other Leaders: Cheryl Hall, Board Chair
Worship Time:  

10:25 a.m. (summer: 9:25 a.m.)
Worship Style:  

informal but liturgical
Congregation Size:  

35-65 in worship