Meet Covington – near Kent
… through the eyes of member and musician Tim McKamey in Covington, Washington.  We asked Tim about his church.  Here's what he had to share about Covington Community Church of the Brethren.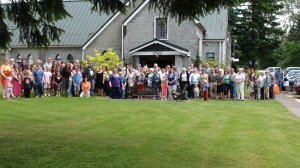 Tell us a little about Covington and what makes it special?

We are an old church: Covington Community Church of the Brethren began as a group of Christians who gathered in the early days of Covington, Washington. They met in a coal mine break room. Then they met in a chicken coop. All this took place decades before the strip malls and traffic that are so much a part of the landscape of Covington today. Using local lumber in the 1950s these believers built a beautiful building with their own hands, one of the oldest public buildings in Covington, Washington.
But it isn't a physical building that makes a church – it's people. People like you. We would love the chance to meet you and find out who you are. We'd also like to share with you who we are, who we've been, and who by God's grace we are becoming.  Because we are also a new church: After almost closing in 2009, we are experiencing a rebirth. So while our building is old, our family of faith is new. Many of us have been here less than 2 or 3 years. We are finding new life in Christ, mending what is broken, and partnering with our community. We are a lot like "stone soup:" an eclectic, earnest, imperfect, hospitable, fixer-upper-group of people who are trying to follow Jesus together.

What's worship and community life like at Covington?
We have one worship service which tends to be traditional but flexible with folk, bluegrass, traditional hymns and spirituals played usually on acoustic guitars and piano, and occasionally organ, cello, violin, recorder and flute. The Leadership Team Leader and the Pastor plans the service, along with the Music Lead. We have a small choir that meets to rehearse every Wednesday evening at 7pm and also a Women's Group that meets monthly.
Congregation: Covington Community Church of the Brethren

Pastor: Mark Ray
Adult and Children Education & Choir Director: Jean Knight
Worship Team Leaders: Pete Wilkins and Tim McKamey (Music Lead)
Adult Sunday School and kids' activities: Sundays at 10:00 a.m.
Worship and kids' Sunday School: Sundays from 11:00 a.m. – 12:00 p.m.
Worship Style: Traditional – Come as you are. All are welcome!
Congregation Size: 60 people
Congregation Website: www.CovingtonCommunityChurch.org
Congregation Email/Phone: 253-631-9090
Covington on Facebook: www.facebook.com/CovingtonCommunityChurch